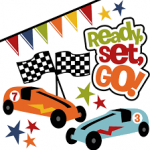 PINEWOOD DERBY IS FINALLY HERE!! Woo hoo!! Get those race cars painted and fine tuned because Saturday WE RACE! That's right! This Saturday, March 7 at Saints United Gym we are all gathering at 10:00 AM for the fun filled EXCITING  down to the last second hold your breath racing event of the year! At least for scouts 😁😁. This event lasts a few hours so bring a snack and a drink (covered containers only please) and your cheering voices. Remember, we want to win, but we also want to be happy for everyone else. So, do your best and support your pack members, too! ***please come in uniform if you can! 
DETAILS OF THE DAY
ARRIVAL TIME 10:00 AM  

At this time we weigh and register your cars.

Any cars found to be overweight or too wide may be altered and re-checked and registered so long as changes can be made before registration closes. 


Once registered, the cars are entered into the computer and MAY NOT BE TOUCHED AGAIN BY ANYONE until the race begins. 

Doing so may also result in disqualification. Cars are placed on display until the race starts so everyone can see all of the cool designs 🚖🚘
REGISTRATION CLOSES BEFORE 10:50 AM. So, to be safe, don't be late.  We want to see your smiling faces promptly at 10:00 AM🙂☺️😊😀😃😄
FAILURE TO REGISTER BEFORE 10:50 AM DEADLINE MAY RESULT IN DISQUALIFICATION.  We hate to have to do this, but we have specific BSA Pinewood Derby guidelines to follow and the computer needs time to calibrate the information which is sent to the electronic track. Please don't be late!
THE FIRST RACE BEGINS PROMPTLY AT 11:15 AM.  Please understand this event is run in heats and therefore lasts a few hours and we rent the track. That means if we are late starting, we are late ending, and the people coming for the track after the race will be held up and that's not very scoutlike of us to not be courteous to them!
EXPECT LOTS OF CHEERS AND GROANS AND LAUGHING so bring your happy face whether you come in first or last!
YES:  😁🤗🤪😊😃
NO:☹️😢😭😤😠😡
A LITTLE HERE AND THERE IS ONLY NATURAL: 😯😧😬😣😕
THE WINNER HERE GETS TO GO ON TO COMPETE AT THE DISTRICT DERBY! 👏🏻👏🏻🏆
SEE YOU SATURDAY!!!! GOOD LUCK!!! 🍀
family and friends are welcome to attend, so please don't be shy about asking them. Share the fun!!